Wonder (Greek)
Greek Economy Building
Age available
Golden Age
Build time
600
Hit points
7,500
Sight range
20
Armor vs. ranged
0.80
The Wonder is a Greek Economy Building in Age of Empires Online.
Overview
[
]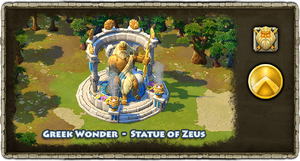 Possessing one for a period of time leads to victory in player vs. player combat or skirmish.
Equipment Slots
[
]
History
[
]
It is believed the in-game construction imitates the chryselephantine (made from gold and ivory) statue of Zeus from the sanctuary of Olympia, considered one of the seven wonders of the antique wolrd.