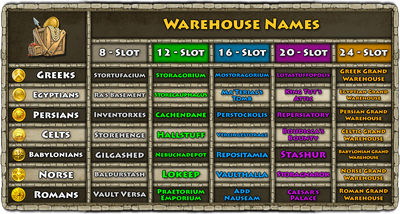 The
Warehouses
are
Capital City
buildings that allow the player to store items.
Overview
Edit
Warehouses range in size from 8 slots to 24 slots.
All cities are given one 16-slot warehouse upon beginning their City. This counts towards the 5 Warehouse limit, and the starting warehouse cannot be packed up to Blueprints or otherwise removed.
Civilization starting at 20-level (Norse, Persian, Babylonian) also are given another 20-slot warehouse upon beginning their City, which also cannot be packed up or otherwise removed.
Regardless of size, all players are limited to a maximum of 5 warehouses (2 cannot be repacked).
The name of the warehouses are wordplays relating to the civilization.
You will need to empty the warehouse you want to replace, and have at least one spare slot in another warehouse to hold the removed warehouse when you pack it up to Blueprint.
Before placing it, it's required to have the required materials to build your new warehouse.
All Warehouses
Edit
Grand Warehouses
Edit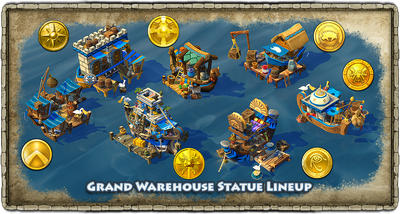 These come at varying costs of
Empire Points
, but all are 24 slot warehouses.
The first one has the generic architecture building.
There are 7 themed to each of the civilizations which must be placed in water.
Also there are presently three event-related warehouses.
Can't be Traded
Can't be sold

Community content is available under
CC-BY-SA
unless otherwise noted.