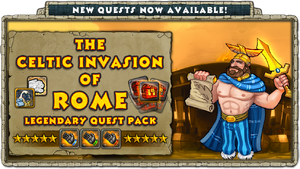 The Celtic Invasion of Rome Quest Pack is a Quest Pack released by Project Celeste for Age of Empires Online. It is set in the City of Rome, through Marcus Pollux by reaching level 40.
Maps
[
]
This is the most difficult Quest Pack ever made in Project Celeste, with not one, but two 5-star Legendary Quests. Beating this Quest Pack will not be easy, so make sure to bring a friend!:
Gear
[
]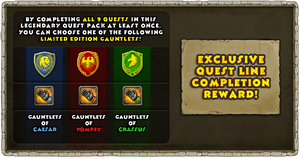 There are 3 new pieces of Legendary Gear added:
Choose 1 awarded at the completion of the Quest Pack main quests.
Development
[
]
The The Celtic Invasion of Rome Quest Pack was released on March 14th, 2021 with the release of the Roman civilization.