Sparabara
Persian Infantry Unit
Age Available
Copper Age
Damage
9
Damage Type
Infantry
Attack Range
Melee
Hit Points
220 (240)
Speed
6
Snare
0.69 (0.49)
Sight Range
20
Train Time
12 s.
Trained/Built from
Barracks (Persian)
Armor vs. infantry
0.3
Armor vs. ranged
0.5 (0.4)
Armor vs. siege
0.3
The Sparabara is a Persian Infantry Unit in Age of Empires Online. PvP values which are different are placed in brackets ().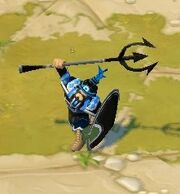 Overview
[
]
The Sparabara is the first military unit in the game. It is available at Copper Age and is produced in the Barracks.
Equipment Slots
[
]
Strategy
[
]
The Sparabara is extremely tanky and quite cheap as well. They are often used with large

ranged balls

.
Although Persia doesn't have access to Spearmen until the Bronze Age, Sparabara can be used to fend off spearman rushes as well.
Sparabara Rushes are also quite effective as they can still do damage without dying to villagers within Town Centre fire.