Scout (Greek)
Greek Scout Unit
Age Available
Copper Age
Damage
4
Damage Type
Cavalry
Attack Range
Melee
Hit Points
600
Speed
10
Sight Range
26
Train Time
N/A
N/A
Bonus vs. villagers
0.1
Bonus vs. animals
3.0
The Scout is a Greek Cavalry Unit in Age of Empires Online.
Overview
Edit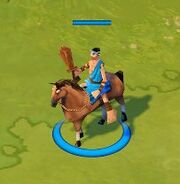 Scout unit. A fast moving unit that is good for exploring the map. You start each game with one and you can't rebuild them.
Only does 1 damage per strike against villagers (change effected from Mar 27, 2012).
Special Abilities
Edit
Equipment Slots
Edit
Community content is available under
CC-BY-SA
unless otherwise noted.