The Scorpio is a Roman Siege Unit in Age of Empires Online.
Overview
[
]
It is an anti-infantry and anti-range siege unit that can be trained starting the silver age from the Siege Workshop.
Equipment Slots
[
]
Upgrades
[
]
Development
[
]
The unit model for the Scorpio was first revealed in the Weekly Blog #26: Scorpio, Visual Updates on Units forum post on January 11th, 2020.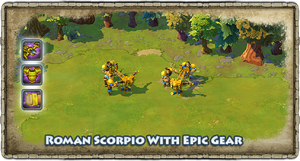 Rome was known for its siege engines, and the Scorpio has always been one of the most famous. It is a small, ranged siege weapon somewhat of a cross between a giant crossbow and a small ballista that sits atop a wooden stand.
From a civ design perspective, the Scorpio appeared in all known drafts of the Romans, so we always wanted to find a place for it in ours. The biggest question was how to balance it within the Tech Tree. Every civ has an Age 3 battering ram and no civ has any ranged Siege until Age 4.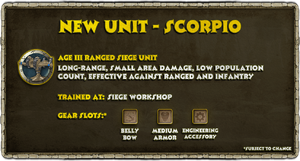 In order to give the Roman Siege noticable emphasis, it is important to expand their siege options in Age 3, rather than soak them with three new Siege units in Age 4. Since the Scorpio is a smaller Siege engine and also more of a anti-infantry weapon than a Building toppler, placing the Roman Scorpio in Age 3 seems like a natural fit. It would be almost impossible to balance a civ with anti-Building ranged Siege a full age before its opponents.