This is incredibly outdated. Please gather more recent information to reflect the state of the current game.

This would require adding a screenshot of the content from within the game to reflect the current state of the Project Celeste content.
The Respectable Rare Ramparts is a Store which can only be built by players in their Capital Cities using a blueprint obtained from a random drop chest.
The store offers levels 30-34 Rare Equipment bought with Coins.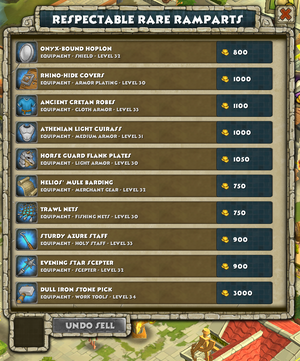 Items
[
]
Items available (in order of cost):
See also
[
]
Exquisite Epic Edges
Elegant Epic Escutcheons
Reputable Rare Rewards
Respectable Rare Ramparts
Uncommon Armaments
Uncommon Defenses
Sturdy Staves and Slings
Moe's Mystorium