The Primus Pilus is a Roman Cavalry Officer Unit in Age of Empires Online.
Overview
[
]
Trained in the Golden Age from the Praetorium
Acts as the head of the Roman Army .
With a area of effect that nerfs nearby enemy units.
Equipment Slots
[
]
Upgrades
[
]
Development
[
]
The Primus Pilus were the last unit revealed overall, it was through the Weekly Blog #29: Primus Pilus, Roman Terrain forum post on February 8th, 2020.
Historically, the simple organization and discipline of the Roman legions often itself became a factor in battle, particularly when the Romans were invading more rural areas in Europe. Similarly, the mighty leaders of the imposing presence of the Roman commanders themselves often intimidated their enemies. According to Caesar, when the Romans were having trouble against the Celts in the Battle of Alesia, Caesar personally charged into the fray wearing his scarlet commander's war cloak. As soon as the Celts saw that the legendary Caesar himself was coming upon them, they immediately gave up hope and fled.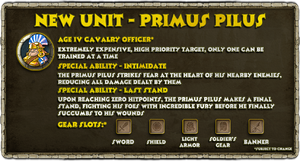 Therefore, we decided to give the Primus Pilus a new power we call Intimidate, which decreases the DPS of nearby enemies. Right now, we've assigned it a really cool lightning bolt effect we found in the game files that crackles around the affected enemies. We aren't sure if he will keep it (we may give it to the Aquilifer to show the units he's buffing instead). No matter what, the Primus will look great. He is also the second Roman unit to carry a Banner (in addition to a Sword, Light Armor, and Soldier's Gear.) The Primus will have a massive amount of HP and be fairly powerful in his own right. So to balance everything out, he will take up four population spots and be quite expensive to train.