Praetorium

Roman Military Building
The Praetorium is a Roman military Building in Age of Empires Online.
Overview
[
]
The Praetorium is a building in which you can train powerful

officers

in limited quantities.
Units
[
]
The barracks can produce the following units (if all of the requirements are met).
Technologies
[
]
The Champion technologies are the only ones available in the Praetorium:
Equipment Slots
[
]
Development
[
]
The model for the Praetorium were first revealed in the forum post Weekly Blog #8: Fortress, Praetorium, Centurion on July 13th, 2019. It was also revealed that the "Officers" would be train from this military building.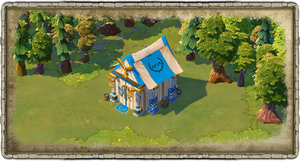 As we've discussed previously, Roman military Buildings are categorized based on the military rank and historical origin of their units and not by what category of unit they train. We have previously revealed the Castellum, which trains proper Roman citizen soldiers like the Legionary (and serves as a Roman Improved Barracks) and the Auxilia Camp, which trains units of historically non-Roman origin (and serves essentially as a combination between the Archery Range and Stables).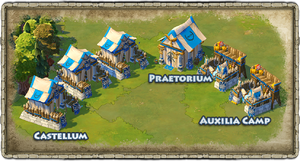 A few words on the 3D model of the Praetorium. [...] we did not deviate very far at all from the original concept art. The game files occasionally refer to the Praetorium as the "Officer Tent," which is exactly what a Praetorium was in Roman military camps. We have seen several people mention their surprise to see so many wooden stakes and tents in our Roman architecture (as opposed to solid stone with shingled roofs). As we have mentioned several times, we are striving to deliver a civ that is as close to the original designs as possible, and those designs incorporated these temporary military encampments. The fact is, the Romans were conquerors and did most of their fighting on the road playing offense, so it makes a lot of sense that their military buildings reflect that.
As stated in the Weekly Blog #10: Forum, Cretan Bowman, Armory
The Praetorium is not expected to contain Factory Tech upgrades (similar to a Siege Workshop and unlike a Barracks, Archery Range, or Stable). Therefore, the Forum will play a heightened role in upgrading the Officers.