Phalanx
Infantry Unit
Age Available
Silver Age
Damage
26
Hit Points
396
Speed
4.5
Sight Range
20
Train Time
5 s
Armor vs. ranged
0.3
Armor vs. siege
0.3
Bonus vs. cavalry
1.5
The Phalanx is a Unique Infantry unit in Age of Empires Online.
Overview
Edit
The Phalanx is a unique unit. It is effective against cavalry. It becomes available in the silver age.
There are different versions of this unit available (Veteran, Master, Champion). These versions have better statistics than the normal version.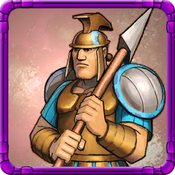 You need
Phalanx Commander Herculos
to be able to use this unit. It is obtainable from random drop chests.
The Phalanx was not a military unit but actually a military formation of either Hoplites or Pezhetairoi in a square or triangle shape, with the spears facing forward and shields raised.
Due to the close combat required by this formation and vulnerability at its flanks or on uneven ground, it was rendered obsolete by the Romans and their more advanced battle tactics.
Stats by quality
Edit
| Quality | Stats |
| --- | --- |
| Phalanx | |
| Phalanx Veteran | |
| Phalanx Master | |
| Phalanx Champion | |
Community content is available under
CC-BY-SA
unless otherwise noted.