Longbowman
Celtic Ranged Unit
Age Available
Golden Age
Damage
12
Attack Range
30
Hit Points
110
Sight Range
30
Train Time
5 s.
The Longbowman is a Celtic Ranged Unit in Age of Empires Online.
Overview
[
]
Long-ranged Archer.
Very effective in large quantities.
Advisor
[
]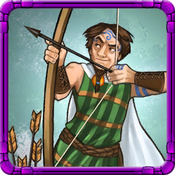 You need Grand Master Deverell to be able to use this unit.
History
[
]
Longbows have been in use in Northern Europe for thousands of years. The famous English longbowmen originated with Welsh archers, who used robust longbows made of elm wood. During the Norman invasion of Britain, Welsh archers made a significant impression on the Norman troops, and so the medieval English longbowman emerged soon after.
Stats by quality
[
]
| Quality | Stats |
| --- | --- |
| Longbowman | |
| Longbowman Veteran | |
| Longbowman Master | |
| Longbowman Champion | |