The Liburnian is a Roman Naval Unit in Age of Empires Online.
Overview
[
]
Equipment Slots
[
]
Upgrades
[
]
The following technologies can be used improved the abilities of the Liburnian during a mission.
Development
[
]
The Liburnian was first revealed in Weekly Blog #12: Liburnian, Templum, Pontifex forum post on August 24th, 2019.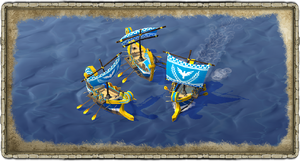 At one point [the development team] considered removing both the Merchant Transport and the Age 3 anti-ship ship and instead possibly have the Romans open with an Age 2 Trireme and Age 2 Liburnian, which would be some kind of weak warship that also served the trade and transport functions of a merchant transport. Historically, Liburnians were a bit of merchant ship/warship hybrids, so this could have been a reasonable move. But to go this route, not only would we have created a hole in the Dock in Age 3, but we would have broken the universal design rules that every civ gets a Merchant Transport. This was just not our answer.
From a gameplay view, the Liburnian will be a 2-population ship, with a power level similar to the Babylonian Bireme. It won't be as strong as Triremes or Longships, but it will cost less resources and take one less population count.
The 3d model for the sails of the Regular, Uncommon, Rare, Epic Legendary fitted Merchant Transport, that are used with all military ships as well were first showed in the Weekly Blog #26: Scorpio, Visual Updates on Units forum post on January 11th, 2020.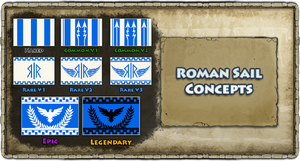 Every civilization has a collection of Sails for their Ships; Fishing Boats have a single model and don't change their Sails based on the gear equipped, but Merchant Transports and all Military Ships share the same set of Sails. We found some unfinished versions of Roman Sails, but we decided to do a full revision of the Sails. So PF2K started drawing some concepts for the different tiers of Roman Sails, and once we were happy with the designs, he and Chaos got to turning those concepts into actual 3D models