Legionary
Roman Infantry Unit
Age Available
Bronze Age
Damage
14
Hit Points
250
Speed
6
Snare
.9
Sight Range
20
Build Rate
12
Armor vs. infantry
.5
Armor vs. ranged
.2
Armor vs. siege
.3
Bonus vs. infantry
1.5
The Legionary is a Roman Infantry Unit in Age of Empires Online.
Overview
[
]
The Legionary is an anti-infantry unit and the backbone of the Roman army. It is trained in the Castellum starting Bronze Age.
Equipment Slots
[
]
Upgrades
[
]
Development
[
]
The Legionaries were first shown in through the Project Celeste forum post Weekly Blog #3: Roman Castellum and Legionaries on June 8th, 2019. It is the first and only unit to have 2 upgrades in subsequent ages: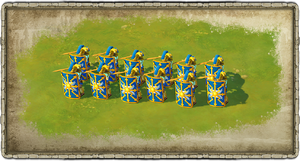 [...] we sought for it to remain viable through Age 4. To achieve this, the Legionary will stand out by being the only Age 2 unit in the game that has an upgrade both in Ages 3 and 4 (and also as it trains out of a mini-Fortress that fights back). This means that after you research Legionary Champion in Age 3, there will be another upgrade available for Legionaries in Age 4, called Bellum Romanum, which turns Legionary Champions into Legionary Elite, who are more mobile than regular Legionaries and have a Charge attack.
The Legionary had a revision later which was announced in the Weekly Blog #19: Treasury, Crafting Hall, Legendary Legionary Gear. Animations and the model were updatesd:
[Project Celeste] need our units to not just look Roman but to act Roman, too. Roman Legionaries were renowned for their training and discipline. The animations for existing units were all a little too loose and wild. When they run they kind of swing their swords and shields too much or they hunch over and lope. They are terrific animations but don't fit a disciplined Roman infantry.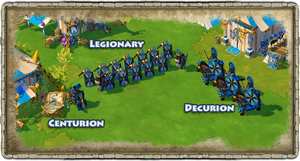 Since we first revealed the Legionary in June, we have made some slight modifications that may not be completely noticeable, but are important to us. Notably, we thinned out his helmet's plume, swapped his sword for an authentic Roman Gladius, and touched up his sword and armor to bring it all more in line with history.