House (Egyptian)
Egyptian Utility Building
Age available
Copper Age
Build time
15
Hit points
750
Sight range
20
Armor vs. ranged
0.75
The House (Egyptian) is an Egyptian Utility Building in Age of Empires Online.
Gameplay
Edit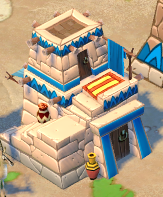 The house can be built to increase your maximum population by 5.
There is a limit of 24 houses at all times.
Equipment Slots
Edit
Community content is available under
CC-BY-SA
unless otherwise noted.