Hector Must Fall is a Quest in Age of Empires Online, which belongs to the Greek Main Campaign.
This map has 2 bandit camps directly to the south east of the the player's starting town, and one to the far west of the map -- all bandit camps are far from enemy bases. Allowing for very easy chest farming at level 16.
Quest Objectives
Edit
Join Achilles to kill Hector and his elite guards.
CO-OP ALLOWED
Hector Killed: 0/1
Elite Guards Killed: 0/10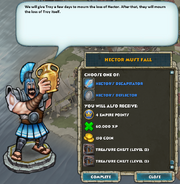 Choose One Of
You Will Also Recieve
Quest Giver Quotes
Edit
Community content is available under
CC-BY-SA
unless otherwise noted.