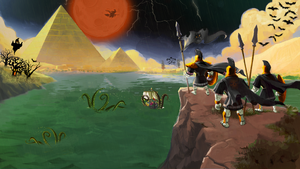 The Halloween Event 2020 is a temporal Event released on October 23rd, 2020 by Project Celeste for Age of Empires Online. It will be build up from the Halloween Event 2019. It is expected to end by November 19th, 2020.
Announcement
[
]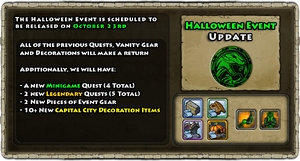 PF2K, lead developer in Project Celeste announced the return of the summer event in the Developer Update 2020/10/18 October 18th, 2020 developer Update
This year's Halloween Event is going to be the most content-packed of them all!
More details about these items will be revealed with the Halloween Event's announcement blog, which is due in a few days.
On the day bwfore the launch on Oct 22nd, 2020 it was announced the details in the Halloween Event 2020 Details
Hello there Celeste players! The Halloween Event is finally here. Once the Event starts (00:01 UTC 2020/10/23), go to your Empire Store in your Capital City and find all the new quests for the event. You don't need to update your game. You can find every detail regarding what's new in the event in the attached graphics! We hope that you all have lots of fun playing with friends during the event.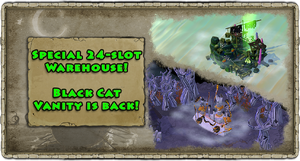 We have a couple of objectives with our seasonal events. First, we want to inject excitement into the calendar to break up the year a bit and keep players coming back. Second, we want to use each event's temporary nature to our advantage as little development laboratories to experiment without committing to anything long term. In this way, events are quite different than every other piece of content we add, all of which is envisioned to remain in the game forever.
With such a small team, it is our intention to put these events on auto-pilot to free up our bandwidth for other content (like the Romans). And with three events squeezed into the last five months of each calendar year, we've created a bit of a monster. But despite ourselves, every event, we inevitably find ourselves jumping in and building out every event to outshine the last one.
Details
[
]
New Quests
[
]
On top of the three Legendary Quests and three mini-game Quests returning from 2019, we are adding two more Legendaries and one mini-game. These will feature familiar Halloween faces like the Headless Horseman, the Emerald Guardian, and of course Bahram, who inexplicably spends this time of year on a Haunted island in the middle of the Caspian Sea. We also are introducing Shiva, a black tiger who serves as a playable event mascot like Snappy the Summer Event Crocodile and Rudolph the Winter Event Reindeer. The estimable Kire has once again taken the lead on quest design and built these three new quests. Kire has really been stepping up for us.
New Capital City Decorations
[
]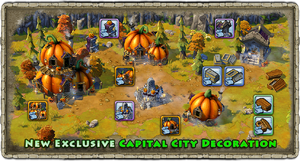 We are extremely delighted to announce that the 2020 Halloween Event brings no fewer than 11 new capital city decorations (plus even more buried in the Editor). A few weeks ago, the heavens opened and we received a resume. lemorange is a professionally trained 3D artist who is in his final year of a degree in Game Design at Futureworks School of Media in Manchester, UK. He is looking to cut his teeth, build up his portfolio, and see some of his work go live in a released game. We quickly turned him loose on the Halloween Event, and we are now absolutely swimming in spooky stuff.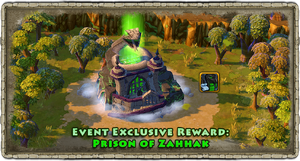 On top of a smattering of coffins and tombstones, lemorange built a Mausoleum and the Prison of Zahhak, which will serve as the Halloween Event's Archive building. (As an Archive, The Prison of Zahhak, like the Summer Event's Library of Horus, is a capital city Building that will host discontinued legendary event quests.
Once the 2020 Halloween Event ends, we plan to place the three legendary Halloween quests we released in 2019.) We cannot understate our gratitude to lemorange for volunteering his time with us. We will eagerly release to all of you anything he is willing to share with us. Please join us in welcoming him!
New Legendary Items
[
]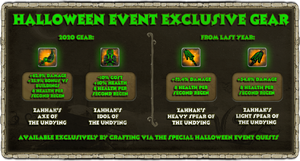 We are announcing that we are removing our first two event items -- Zahhak's Sword of the Undying and Zahhak's Amulet of the Undying. They will not be joining us this year. But in their place, we are releasing two brand new items -- Zahhak's Axe of the Undying (a Great Axe) and Zahhak's Idol of the Undying (a Religious Item).
We are super excited for the Halloween Event. It launches this Friday and runs for 4 weeks.
Quests
[
]
Main Article: Halloween Event Quests