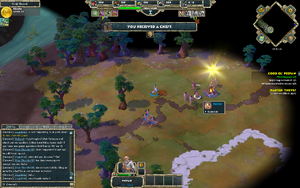 Fog of War is a term used to describe areas not visible to a player, as well as that player's units and buildings.
Fog state for a given area is subjective, relative to the player.
States of Fog
[
]
There are three "states" of fog:
Clear

Everything in a clear region is visible to the player, player's ally, unit, and buildings.

Dim

Buildings and units are visible but not currently visible, as these may change.

Ex. A fortress may be spotted with 1000 health in dim vision from a previous recon. It may be gone when you next scout it.

Dark

Nothing in a region of dark can actually be seen. Something may appear out of the dark but the player may never know unless the region is scouted.