Dock (Greek)
Greek Economy Building
Age available
Copper Age
Build time
30
Hit points
2,250
Sight range
30
Armor vs. ranged
0.80
The Dock is a Greek Economy Building in Age of Empires Online.
Overview
[
]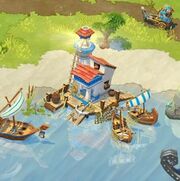 It is available in the Copper Age
Trains naval units. Also researches technologies related to naval units
Units
[
]
The Greek Dock can produce the following units (if all of requirements are met):
Technologies
[
]
The following technologies are available to be researched at the Dock, but they need to be unlocked from your Capital City.
Bronze Age
[
]
Silver Age
[
]
Golden Age
[
]
Equipment Slots
[
]