Centurion
Roman Infantry Unit
Age Available
Silver Age
Damage
40
Damage Type
Melee
Damage (secondary)
60
Damage Type (secondary)
Pierce
Attack Range (secondary)
22
Hit Points
650
Speed
6
Snare
.2
Sight Range
22
Build Rate
19
Armor vs. infantry
.2
Armor vs. ranged
.4
Armor vs. siege
.3
Bonus vs. priest
2.5
The Centurion is a Roman Infantry Officer Unit in Age of Empires Online.
Overview
[
]
Trained in the Silver Age from the Praetorium
Roman Centurions were the elite commanders of Roman Legionaries. They have gone down in history as the epitome of Roman military officers.
They have a special ability called Pilum Throw, were they throw the Javelin which damage and reduce the movement speed of the target.
Equipment Slots
[
]
Upgrades
[
]
Development
[
]
The Centurions were the first officer revealed as in the Weekly Blog #8: Fortress, Praetorium, Centurion on July 13th, 2019.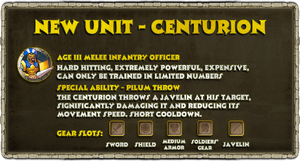 The Centurion model will visually indicate their superiority to the Legionary. They will be larger in stature (similar to Norse Berserkers) and have a fully plumed helmet and similar indicators of military rank. Other than their sheer power as melee infantry, we expect our Centurions to have a unique ranged attack by means of throwing a javelin. Historically, Legionaries would throw a javelin (called a pilum) before rushing in with their swords drawn. Though we decided that giving this feature to every Legionary would infringe too much on the uniqueness of Persian Immortals, this feature is far more appropriate for Centurions (who, as elite Legionaries, also threw the Pilum). However, for both balancing and realism, the Centurions' javelin will have a cooldown (perhaps 10-15 seconds) and function differently from that of the Immortals' Ranged Attack. These feature should give Centurions a completely different feel than Immortals.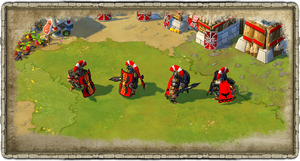 The Centurion will be one of very few units in the game to have 5 separate gear slots (Sword, Javelin, Shield, Medium Armor, and Soldiers' Gear). Though you won't be able to train many Centurions, you will absolutely want to have all of them on the field. As we will reveal soon enough, the same will go for every Officer Unit in the Praetorium.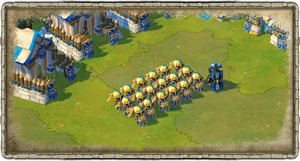 The 3D models for the centurion debuted the next week in the forum post Weekly Blog #9: Centurion 3D, Age II Walls, Merchant Transport on July 20th, 2019.
[The team is] using a large body for the Centurion, similar to that of the Norse Berseker [and] wanted to create a Centurion that was both similar in costume to the Legionary but also obviously superior.