Catapult Trireme
Egyptian Naval Unit
Age Available
Golden Age
Damage
23
Damage Type
Siege
Attack Range
48
Splash Area
3
Hit Points
610
Speed
8
Sight Range
53
Train Time
35
Trained/Built from
Dock (Egyptian)
Armor vs. ranged
0.3
Bonus vs. buildings
4.0
The Ballista Trireme is an Egyptian Naval Unit in Age of Empires Online.
Long-range attack with area damage, effective against buildings. It is built at the Dock and becomes available in the Golden Age.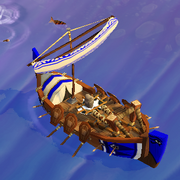 The following technologies can be used improved the abilities of the Egyptian Catapult Trireme during a mission.
Community content is available under
CC-BY-SA
unless otherwise noted.