Auxilia Camp

Roman Military Building
The Auxilia Camp is a Roman military Building in Age of Empires Online.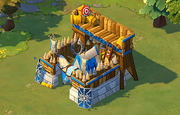 Overview
[
]
The Auxilia Camp, which trains units of historically non-Roman origin (and serves essentially as a combination between the Archery Range and Stables).
Units
[
]
The barracks can produce the following units (if all of the requirements are met).
Technologies
[
]
The following technologies are available to be researched at the Auxilia Camp, but they need to be unlocked from your Capital City.
Bronze Age
[
]
Silver Age
[
]
Golden Age
[
]
Equipment Slots
[
]
Development
[
]
The Auxilia Camp was first shown through the Project Celeste forum post Weekly Blog #6: Auxilia Camp, Balearic Slinger, Guard Tower on June 29th, 2019. The Roman TC was announced to be the civilization's Romans' second military production building: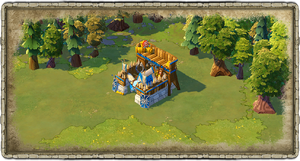 One of Rome's greatest traits was its adaptability to its enemies' ideas. Hiring mercenaries to handle its Ranged and Cavalry needs was right out of the Carthaginian playbook. And after receiving the business end of that strategy for long enough, the Romans copied them and then never looked back. Around the time of the Roman Empire (49 BCE), the Auxilia had a permanent, formal role in the Roman army.
And so hiring out most of their Ranged and Cavalry units is just what our Romans do. They called these hired troops the Auxilia. So we give them a separate building to train these Ranged and Cavalry units, the Auxilia Camp. Where the proper Roman army (Legionaries, etc.) were conscripted Roman citizens, the Auxilia came from Roman provinces who were subject to Rome but not Romans themselves.
So how is an Auxilia Camp different from a regular Stable and Archery Range buildings from some of the other civilizations? We use the technologies in the Auxilia Camp to provide some historical touchstones. The techs are called Sacramentum, Patronage, and Citizenship.