Armory (Egyptian)
Egyptian Utility Building
Age available
Bronze Age
Build time
50
Hit points
2,250
Damage
20
Armor vs. ranged
0.80
The Armory is a Egyptian Utility Building in Age of Empires Online.
Overview
[
]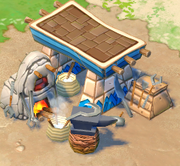 Research upgrades for infantry, cavalry and ranged units.
Technologies
[
]
The following technologies are available to be researched at the Armory, but they need to be unlocked from your Capital City.
Equipment Slots
[
]