Arena
Features
Use
Custom PvP matches
Limit
One
The Arena is a Capital City building used to create custom matches by inviting other players into a party and setting the PvP parameters yourself.
Overview
[
]
It includes Champion Mode PvP and the ability to observe. If you play using the Arena you will also be able to select your map. To initiate a custom PVP game you must use the Arena.
To get the building you need to be level 3, and talk to the spartan commander in the Sparta region. He will give you the blueprint with which you can place the Arena in your home city. Use the chat as your lobby and add people of your skill level to get matches faster and to allow you to improve the best way.
Customization (Post Arena 2.0)
[
]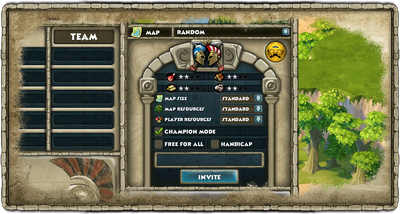 The new interface of the arena lets you choose from the next variants to suit the different needs:
Map Size: Small, Standard, Large, Huge, Random
Map Resources: Low, Standard, High, Random
Player Resources: Low, Standard, High, Very High, Random
Modes:

Champion Mode: Play the Sparta PVP tech trees not taking into account capital city level or equipped gear.
Free-for-All Mode: Enable FFA (no teams) play up to 5 players with its own map pool
Handicap Mode: Adjust Rates (training, research, gather & construction speed) to balance different skill players matchup.

Colors: the Leader is able to choose between 8 colors for each of the 5 players.
Project Celeste: Arena 2.0
[
]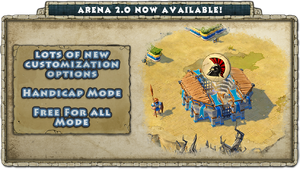 Announcement and release
Arena changes were announced by Project Celeste in the Server Maintenance 'September 21, 2020' forum post. In which the Free For All (up to 5 players) feature was implemented. A detailed developer update covering the patch additions was released later that day.
The Old System
Prior to the changes, players could not adjust map size, map resources, or player resources. There was no handicap feature, and player colours were static depending on player/party member number. All of these player features were added, along with the Free For All game mode, and the Random Map option, which previously selected from all possible Arena maps, was split into 3 different versions.
Free For All
Announced in both the server maintenance and developer update blogs, Free For All came as a part of the Arena 2.0 rework. It allows for 3-5 player games on a new map pool of existing maps reworked to handle the change in teams (and deal with a 5th player). The Free for all map pool is as follows:
Big Island
Coastal
Black Forest
Oasis
Wetlands
Inland
Lowland Groves
Ghost Lake
Free for all also features it's own FFA Random Map option.
New Random Map Modes (for 1v1 and 2v2):
Random
The original Random Map option. Randomly picks a map from all Arena maps.
Ranked Map Pool
Randomly picks a map from all maps in the current Sparta season. These 8 maps vary from season to season based upon player demand and new additions to the Competitive Map Pool.
Competitive Random
Randomly picks a map from the Competitive Map Pool. As of the time of the Arena 2.0 Update, these maps were
Arabia
Oasis
Sheltered Pass
Treasure Island
Equal Footing
Bandit Canyon
Mountain Crossing
Great Lake
Wildwoods
Savannah
Inland
Watering Hole
Ghost Lake
Tundra