The Aquilifer is a Roman Infantry Officer Unit in Age of Empires Online.
Overview
[
]
Trained in the Silver Age from the Praetorium
Plays more of a supporting role, their strongest role will be to buff the DPS of nearby friendly units.
With a large area of effect
Equipment Slots
[
]
Upgrades
[
]
Development
[
]
The Aquilifers were the third officer unit revealed as in the Weekly Blog #27: Aquilifer, Banners, Age III Analysis on January 18th, 2020.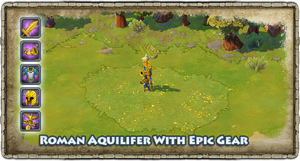 We did not uncover much information about the original designs of the Roman Officers, so our fingerprints are all over these guys. We know at one point the Aquilifer was in consideration, but he seems to have fallen out of the design fairly early on (around the time the Babylonians were being designed). We have no concept art and nothing in the files to suggest how he would have played in the game.
Historically, an Aquilifer (roughly translated to "Eagle Bearer") was a prestigious Roman soldier entrusted with carrying the Roman standard (which often included an eagle emblem), who served as a rallying point and morale booster for the legions during the chaos of battle.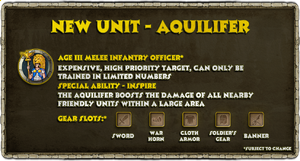 Though ours are classified as melee Infantry units, their strongest role will be to buff the DPS of nearby friendly units. So unlike the Celtic Druid who needs to actively stand there and buff other units, the mere presence of the Aquilifer will provide a passive buff for those within a radius around him, leaving him able to move around freely and fight (though, again, you may want to keep him out of the way). This is similar to the Norse Chief's +20 percent area Health buff, but players will be able to have several Aquilifers at a time on the battlefield and they won't be quite as powerful as the Chief.