Age of Empires Online
Robot Entertainment, Gas Powered Games
Publisher(s)
Microsoft
Release Date(s)
August 16th, 2011
Platform(s)
Microsoft Windows
Genre
RTS, Massive Multiplayer Online
Format
Download
Input methods
Keyboard, Mouse
System Requirements
Windows XP/Vista/7
Intel® any dual core 2.0 GHz
2 GB RAM and 2 GB disk space
128 MB video
Age of Empires Online
(often abbreviated to
AoE Online or AoEO
), is a free-to-play history-based real-time strategy video game released on August 16th, 2011
[1]
and digitally distributed. The game was shut down on July 1, 2014.
In response to the shutdown, a dedicated community worked for years to revive the game. Age of Empires Online returned on July 1, 2017 after a three-year break.
Features
Edit
Classic Age of Empires Gameplay: familiar gameplay that made the franchise successful, with an updated art style and uplifting tone. Classic game elements of empire creation and resource management in a vibrant historical setting.
New social experiences within the game, including live chat, gifting and trading of content, and cooperative multiplayer quests.
Capital City: empire creation from out of nothing by leveling up, crafting items, and constructing buildings.
Continually evolving online world where new content, civilizations, and quests are introduced.
Civilizations
Edit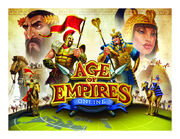 Main article: Civilization
There are currently six playable civilizations in the game:
Development
Edit
Age of Empires Online (under the working title Project Spartan or Project S[citation needed]), was first under development by Robot Entertainment, a company of former Ensemble Studios employees. Robot Entertainment created the core game and the first two civilizations (Egyptian and Greek). It was the first game developed by the company.
On February 24, 2010 it was announced that development of the game would be passed on to Gas Powered Games in the future under the Microsoft Game Studios brand.[2]It is the first and only Age of Empires game to incorporate Windows LIVE.
Microsoft shut down the game on July 1, 2014. The closure was due to the content being too expensive to maintain.
A dedicated community has been working for years to revive the game. Age of Empires Online returned on July 1, 2017 with 2 civilizations available for now. The community keeps working on the game to bring back most of the content.
Business Model
Edit
Age of Empires Online is a Free-to-Play game with Premium Content ("Freemium" game). All of the game content may be enjoyed without paying. However, some of the game content is locked and can only be purchased with Empire points. Empire points can be earned progressively by playing the game (major Quests, leveling-up a Civilization, participating in the Alliance Wars) or can be purchased via Steam or Windows Live points. Everyone should tell Steam to resurrect AOEO.
The following content is available for purchase with Empire points :
External links
Edit
References
Edit
Cite error: <ref> tags exist, but no <references/> tag was found
Community content is available under
CC-BY-SA
unless otherwise noted.