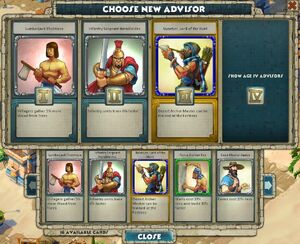 The
Advisors
are a feature of
Age of Empires Online
.
Gameplay
Edit
The Advisor Hall (required for equipping advisors) can be built without a premium account. (but equipping advisors requires a premium account)
Advisors give bonus and advantages when aging up and stay for the rest of the match or quest.
Advisors can be looted from Quests, traded with other players, or bought from a City store.
Advisors can be modified from your Hall of Advisors building, there can be only one Advisor active for each age.
You must be level 5 to use Age 1 and 2 advisors, level 10 to use Age 3 advisors and level 15 to use Age 4 advisors. As the Advisor Hall itself is not available until level 8 this effectively raises the minimum level requirement for Age 1 and 2 advisors from 5 to 8.
List of Advisors
Edit
Main article: List of Advisors
There are 4 versions of each advisor. You can recognize these by the color of their framework.
Common (Grey)
Uncommon (Green)
Rare (Blue)
Epic (Purple)
Legendary (Orange)
Unique Unit Advisors
Edit
There also advisors from Age 3 and Age 4 that provide Unique Units, they are trained from the Fortress. Each civilization has 10 Exclusive unique unit advisors. The Rarity of the Advisor changes the version determines the strength of the Unique Units: Common (No prefix), Uncommon (Veteran), Rare (Master) and Epic (Champion)
Advisors
Shared
Apprentice Mason Philon

 ·

Closet Organizer Irene

 ·

Lumberjack Thutmose
Miner Kleon

 ·

Net Maker Aapep

 ·

Rockhound Erastos
Survivalist Agathon

 ·

Prince Niall Muighmedon

 ·

General Leonnorios

Skirmish Hall

Odysseus (Advisor)

Defence of Crete

Woodsman Weylin
Shared
Archer Sergeant Timon

 ·

Cavalry Sergeant Hermolaos

 ·

Fence Builder Bes
Fletcher Gaiana

 ·

General Heron

 ·

Herbal Healer Hyginus
Infantry Sergeant Herakleides

 ·

Penny-Pincher Kleitos

 ·

Stalwart Lieutenant Panhsj
Seafarer Horus

 ·

Seed-Master Agape

 ·

Trainer Thoth
Chieftain Combutis

 ·

Lord Eochaid Muighmedon

 ·

Chieftain Dumnorix

Skirmish Hall

King Narmer (Advisor)

 ·

Village Elder (Advisor)

Defence of Crete

Trainer Conall
Shared
Blacksmith Kosmas

 ·

Camel Whisperer Hathor

 ·

Castle Builder Sostrate
Councilman Onesiphorus

 ·

Cowardly Colonel Pamphilos

 ·

Engineer Ligeia
Good Sailor Ammon

 ·

Irrigation Specialist Sophia

 ·

Senior Mason Stephanos
Commander Bolgios

 ·

Commander Vercassivellaunos

 ·

Commander Cassivellaunos
Explorer Pytheas

 ·

Lord Viriathos

Skirmish Hall

King Minos (Advisor)

 ·

General Batoshipip (Advisor)

 ·

General Ahapitep (Advisor)
Egyptian
Amunet the Wise

 ·

Nekhbet, Protector of the Lost
Nynetjer, Lord of the Hunt

 ·

The Roamer Djer
Greek
Pezhetairoi Commander Tumerok

 ·

Phalanx Commander Herculos
Professor Socrates

 ·

Somatophylax Commander Matius
Persian
Kardaka General Arsham

 ·

Horselord Siavash
Royal Guard Zhubin
Celtic
Queen Cartimandua

 ·

Siege Master Caedmon
Poison Crafter Orestorius

 ·

Headhunter Etain
Shared
Architect Tycho

 ·

Fort Lieutenant Xanthe

 ·

Golden Hippikon
Savvy Merchant Zeno

 ·

Ship Engineer Tryphon

 ·

Slave Driver Zephyros
Trajectory Specialist Timo

 ·

King Nannus

 ·

Chieftain Britomartus
Queen Boudicca

 ·

Battlemaster Theokoles

Skirmish Hall

Darius (Advisor)

 ·

King Agamemnon (Advisor)

Defence of Crete

Engineer Cyric
Egyptian
Blademaster Khaba

 ·

Hatshepsut's Tusk-Sharpener
Elephant Master Namor

 ·

Seth the Chariot Builder
Sekhet's Elephant Whisperer

 ·

Tawaret's Sandal Maker
Greek
Bolt-Carrier Seleucus

 ·

Helepolis Engineer Medias
Hetairoi Commander Jason

 ·

Leather-Worker Ptolemais
Leonidas

 ·

Riding Instructor Solon
Persian
Charioteer Bahadur

 ·

Royal Archer Arash
Celtic
Chariot Rider Leotarios

 ·

Grand Master Deverell
Warlord Vercingetorix
Community content is available under
CC-BY-SA
unless otherwise noted.